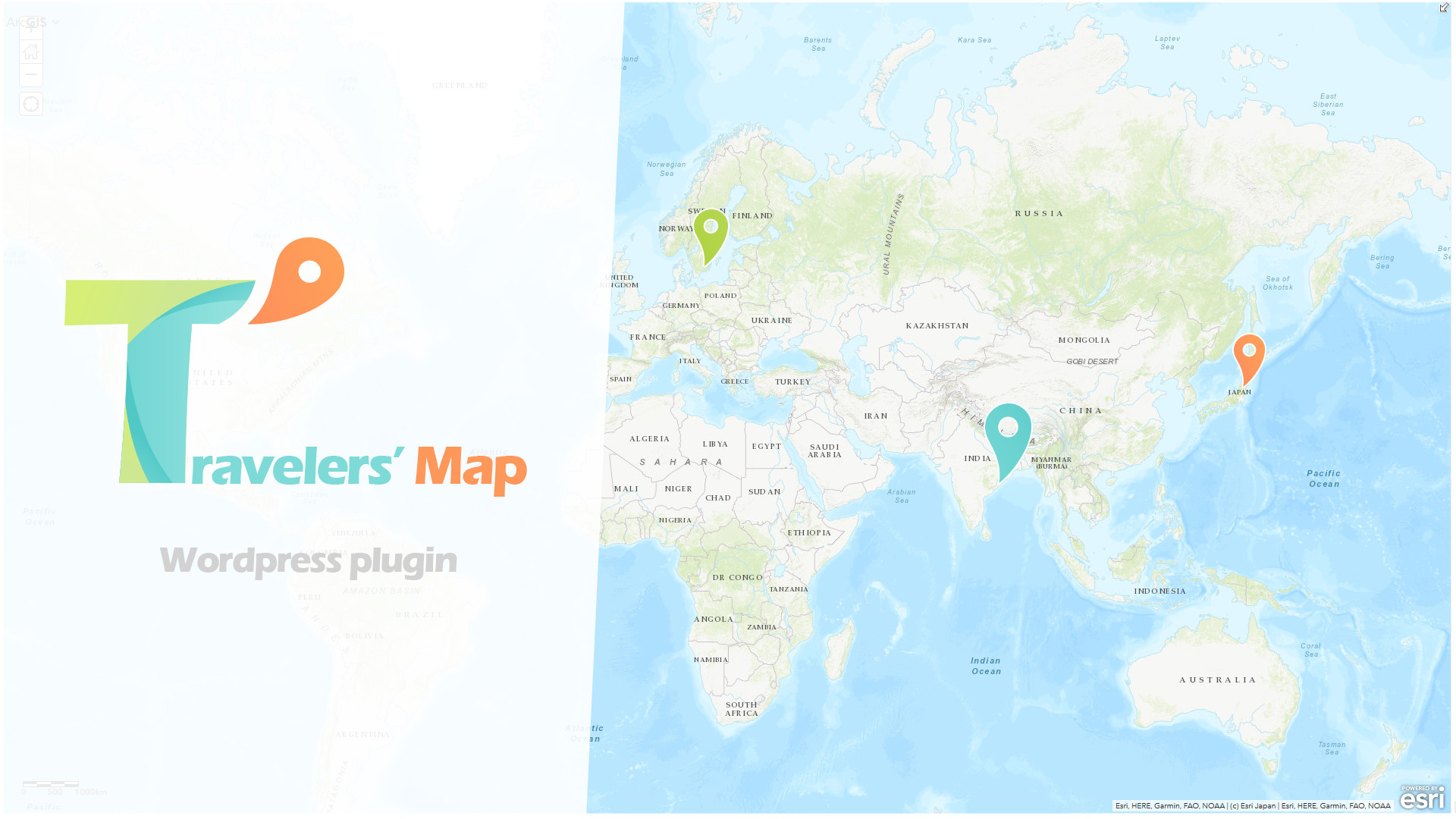 See this plugin in action on this page.
Geolocate and pin your WordPress posts on a dynamic OpenStreetMap map
Travelers' Map allows you to display your blog posts on a dynamic map using the Leaflet module and OpenStreetMap open data. This plugin is entirely free.
Features of Travelers' Map:
Geolocate your posts on a map and choose the marker image. A search module is available to quickly locate the desired location.
Add your own images to customize your markers.
Insert a dynamic map that displays your articles using a simple shortcode. Choose the dimensions of your map.
Filter the posts you want to display on the map by their categories and tags.
Markers clustering is automatic when marker density is too high, to prevent them from overlapping.
Customize the appearance of your maps with OpenStreetMap tile providers. By default, the plugin uses CARTO's free and open "Voyager" map tiles.
Travelers' Map is compatible with the new Gutenberg editor and the classic editor.
This plugin does not add any tables into your database.
The geolocation data of your posts are saved as meta-data and are not deleted if Travelers' Map is disabled or deleted. However, if you want to uninstall Travelers' Map permanently, an option is available to clean your database of any data added by the plugin.
Download Travelers' Map
Get the plugin directly on the WordPress plugin repository:
User Guide
Detailed guide is available here: Get started with Travelers' Map.
Feedbacks and contribution
Feel free to share your feedback and suggestions for future updates by rating the plugin on the WordPress directory. This will allow to centralize notifications while improving the visibility of the plugin!
Bug reports for Travelers' map are welcomed on my GitHub Repository. Also, feel free to use Github to contribute to the plugin!
How can I contribute?
In addition to rating the plugin, there are two other solutions. The first one consists in making a donation to allow me to buy flour and thus feed my sourdough (and incidentally to encourage me to continue maintaining and updating the extension). The second is to contribute directly to the development on the GitHub directory of Travelers' Map.